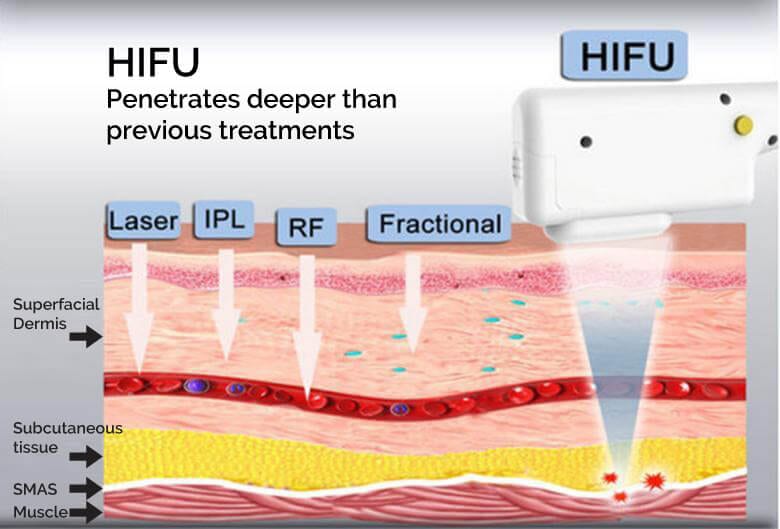 HIFU – The Latest In Non-Surgical Skin Tightening!
HIFU – The Latest In Non-Surgical Skin Tightening!
What Is HIFU? 
HIFU (High Intensity Focused Ultrasound) uses ultrasound waves to create a wound at a dermal level without affecting the top few layers of skin. This advanced treatment works to lift, tighten and knock years off the complexion, without the need for invasive surgery.
How Does HIFU Work?
HIFU directly delivers heat energy to skin and subcutaneous tissue that can stimulate and renew the skin's collagen, improving the texture and reducing sagging of the skin. HIFU penetrates at deeper depths and higher temperatures than Radio Frequency, treating beyond the dermis, where skin structure starts to weaken. It literally achieves the results of a facelift without any invasive surgery or injections with no downtime.
A facelift without the surgery and downtime… YES PLEASE!!!!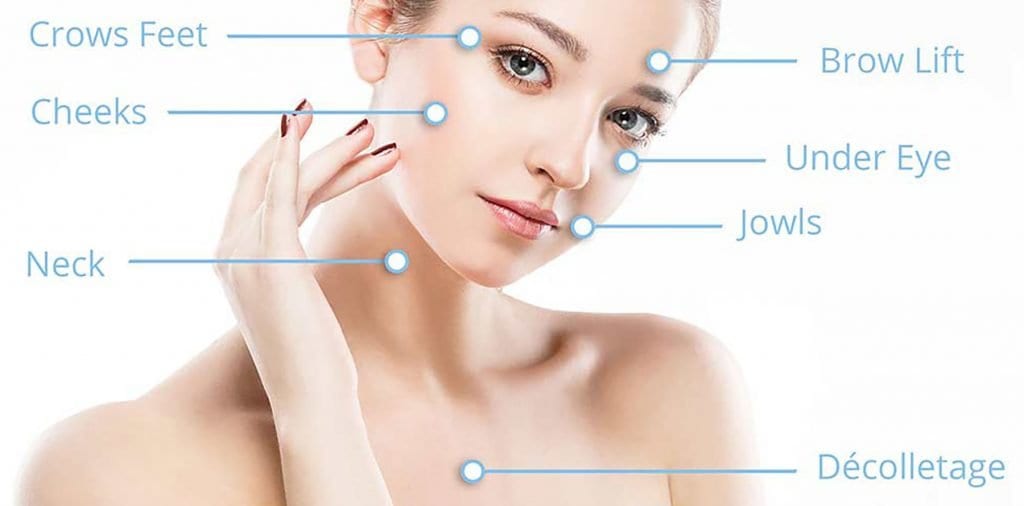 HIFU Technology Explained: 
HIFU heats the tissue at the target point to 65-75 degrees to create spaced wounds and cellular friction to promote a wound healing response to stimulate rapid collagen production, healing and immediate contraction of the tissue.
HIFU is able to penetrate to the SMAS which is the area of muscle that is tightened during a surgical face lift!
How Deep Does HIFU Penetrate?
HIFU penetrates deeper than previous treatments including laser, IPL, RF and Fractional laser as can be seen in the below diagram: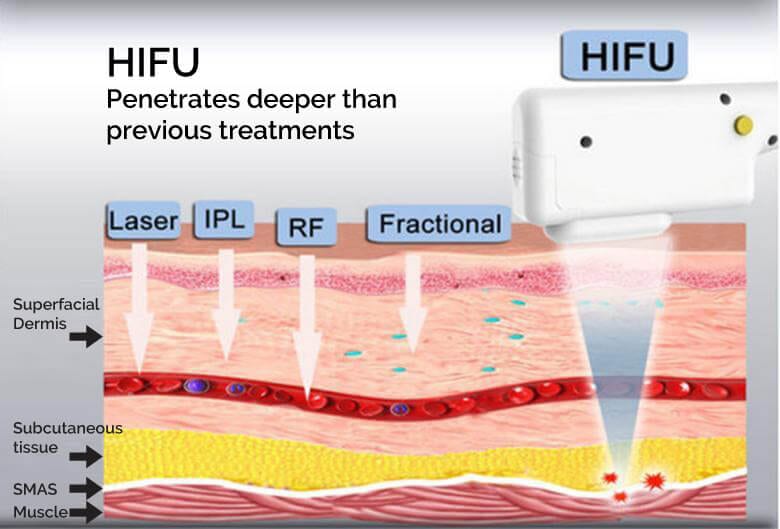 What Are The Benefits Of HIFU Non-Surgical Skin Tightening?
Improves, tightens, and firms the muscles
Reduction of wrinkles and fine lines
Stimulates the skin cells
Lifting of the contours of the face
Tissue lifting and tightening
Improvement of the epidermis
Improves and tightens sagging and loose skin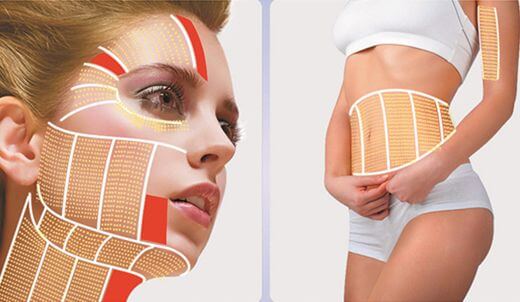 Is This Treatment Designed For Everyone?
HIFU is designed for anyone looking to improve the appearance of fine lines, and loose skin. Our HIFU non-surgical facelift is suitable for any skin type, at any age that are looking to treat visible signs of ageing.
We recommend coming in for a complimentary consultation with one of our trained skin specialists to determine whether this treatment is right for you. 
HIFU is the ultimate alternative treatment for those wanting to age gracefully, but also want their appearance to look a lot tighter, firmer and refreshed, as well as being able to gradually improve their appearance without anyone else noticing a drastic change overnight. 
And who doesn't want people to commenting on how great you look !
Your secret is safe with us……
Is HIFU Harmful?
HIFU is not harmful when passing through human tissue, no risk of infection or bleeding as it is a non-surgical method of tightening the skin.
Is HIFU Painful?
HIFU is a non-invasive procedure, no needles are used and there is no downtime.
You may feel a little pin prick sensation throughout the treatment as the heat passes through the hand piece. This sensation is actually the collagen fibres tightening. 
Everybody is different and each client will experience the treatment differently. Our team will make the treatment as comfortable as possible for you by altering the setting to your comfort levels.
Is There Any Downtime With HIFU?
There is no downtime as such with this procedure, however a few post care instructions will need to be followed. These include, no strenuous exercise for 3-5 days post procedure, no active skincare 3-5 days post treatment and no other treatments 5-7 days post treatment.  You will however be able to get back to your day to day activities as soon as you walk out the door.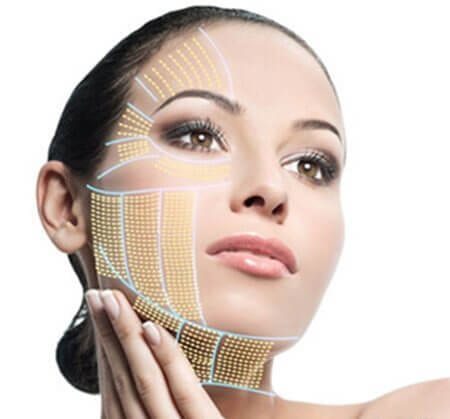 What Areas Can Be Improved With HIFU?
The areas that can be dramatically improved in terms of the severity of loose or sagging skin and skin texture with HIFU non-surgical skin tightening include:
-Eyebrows
-Smile lines
-Jowls
-Frown lines
-Crows feet
-Eye bags
-Neck
-Decolletage
-Upper arms
-Abdomen
-Flanks
-Love handles
-Inner thighs
-Buttocks
-Inner knees
Who Will Be Performing The Treatment?
All of our staff are fully qualified and insured. We will offer personally designed, professional advice for you to receive the best results out of your treatment.
What Depth Is The HIFU Able To Reach?
4.5mm penetrates the SMAS (Superficial Muscular Aponeurotic System) layer. This is the area located between the muscle and the fat, which is the same area tightened during a surgical facelift
3mm penetrates to the Deep Dermis
2mm penetrates in between the Papillary Dermis
1.5mm penetrates the Superficial Dermis
Results?
HIFU works to tighten the same muscles that are tightened during an actual facelift. HIFU increases elasticity of skin, sagging of skin, and smooths the skin texture. There is an initial tightening of the skin which gives you an immediate refreshed look with firmer and lifted skin texture.  Once the collagen induction process has begun and has had a chance to kick in (4-6 weeks post treatment) a dramatic visible improvement in facial contouring and visible reduction in fine lines and wrinkles will be evident. Results continuously improve up to 6 months down the track while your skin cells are repairing and regenerating.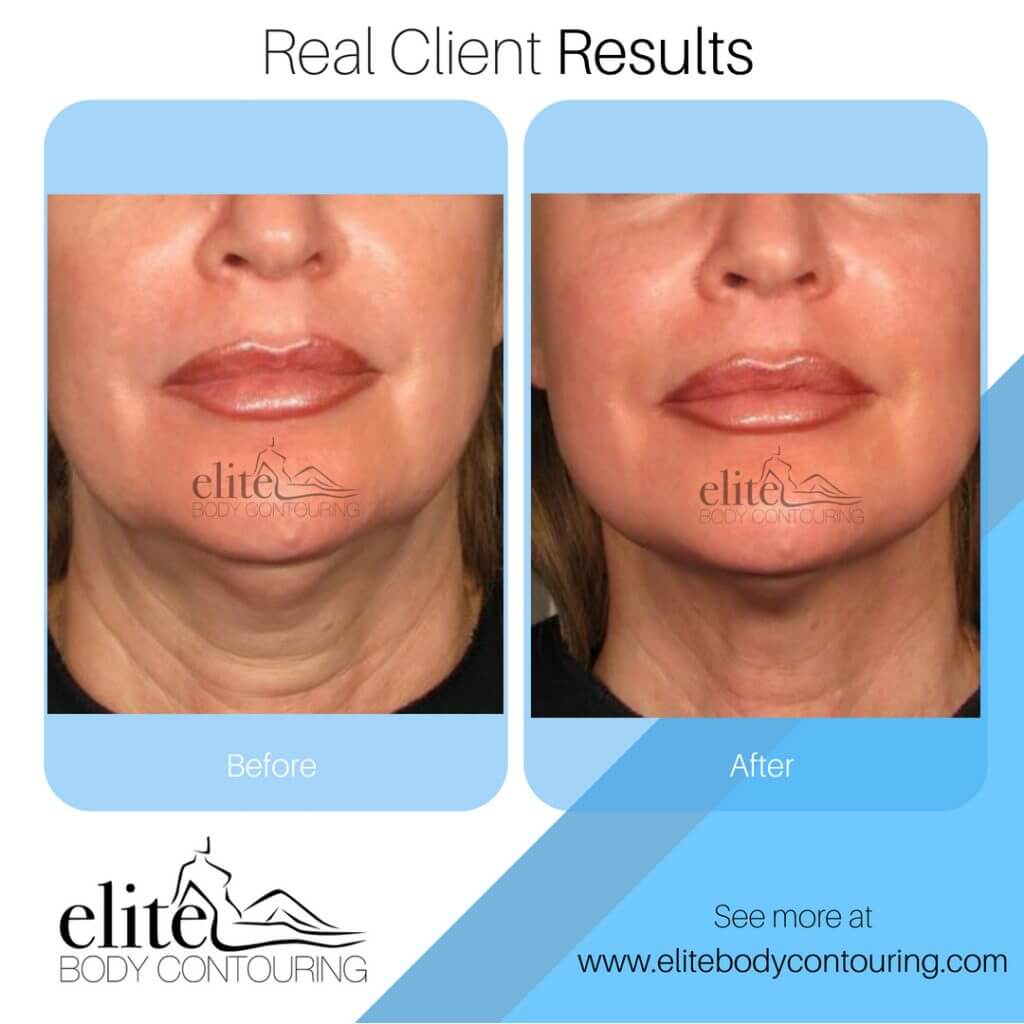 What can I expect post treatment?
We recommend no sun exposure for 24-48 hours after the treatment. If you need to be in the sun then a mineral SPF must be applied.

The skin may feel tender immediately post procedure which can last up a few weeks

The treated area may be flush, red and feel tingly

Bruising and numbness in the treated area may occur which will subside

No strenuous activity for 48 hours

Avoid alcohol for 48 hours
How many sessions will I need?
HIFU is an amazing new technology that delivers dramatic results in as little as one – three sessions.  We recommend having a 5 week break in between HIFU sessions.
Results will last 1-3 years without maintenance.
Book your complementary consultation today on 1300 10 10 55 or click here to book now.