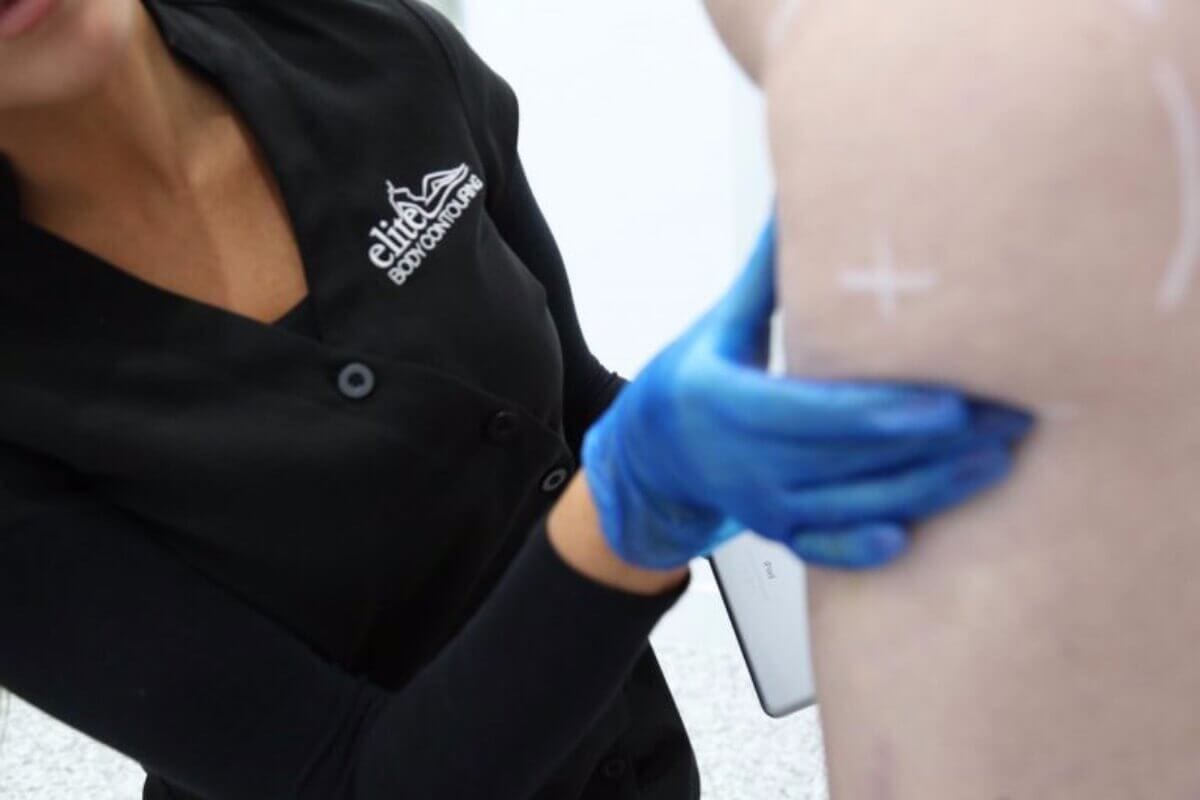 See below for before and after review photos of our clients in our clinics.
Treatment Area:


Thighs & Buttocks
Swipe across to view results
Tap each image to enlarge
Treatment Area:


Thighs & Buttocks
Swipe across to view results
Tap each image to enlarge
Complete Cellulite Treatment Pricing
Disclaimer
Individual results may vary.
Reduce stubborn cellulite with our medical grade treatments.
CELLULITE
Complete Cellulite Reduction
What Is Cellulite?
Cellulite is one of the most difficult concerns to treat and requires a multi step approach for best results. Around 90% of women have this common concern which is caused by many factors including poor blood circulation, hormone imbalance and hereditary factors.
How Is Cellulite Formed?
Cellulite appears when fat cells below the surface of the skin swell, the skin appears to have areas with underlying fat deposits, giving it a dimpled, lumpy appearance.
How Does Elite Body Contouring Reduce Cellulite?
At Elite Body Contouring, we have spent years testing and trailing the best cellulite technologies and techniques on the market and have developed a complete cellulite treatment that is unlike no other!
We have developed a MULTI-STEP approch combining, Ultasound Fat Cavitation, Radio Frequency Fat Melting and 3D Dermology / 3D Shockwave to help melt the fat, regenerate collagen, improve circulation and smooth the surface of the skin, achieving real visible results for our clients.
Step 1. Cavitation
Cavitation is a fat reducing, non-invasive body contouring treatment which targets localised fat and deep cellulite.
Step 2. Radio Frequency
Radio Frequency works to melt and flatten the fat cells resulting in a smoother appearance of the skin. Radio Frequency is a great treatment for cellulite as it works to target superficial layers of fat by melting and flattening the fat cells which reduces the appearance of cellulite.
Step 3. Dermology OR Shockwave
Dermology enhances Cavitation and Radio Frequency results by assisting the liquefied fat to move through the lymphatic system. The automated vaccum roller with inbuilt RF improves lymphatic drainage, increases blood circulation and helps with smoothing of cellulite. Acoustic Wave Therapy works by stimulating the fat breakdown, collagen synthesis, and lymphatic drainage.
Click here to see Cellulite Removal in action!
Frequently Asked Questions (FAQ's)?
Q.   How many treatments do I need to have?
A.   Cellulite is a super stubborn concern to treat. We recommend starting with 8 sessions at weekly intervals as a minimum and then reassessing results at the 8 week mark. Most clients will have more than 8 to achieve more dramatic results. 
Q.   Do I need to change my diet and start exercising?
A.   Cellulite HATES a healthy lifestyle, so we definitely recommend exercising to improve circulation therefore minimising the appearance of cellulite. We also recommend keeping hydrated to help flush out all those toxins from the body. 
Q.   How do you keep me motivated and on track with my results?
A.   We are the first and only clinic in the country to offer clients in clinic medical grade body composition scans with treatments. why do we do this? As mentioned above cellulite to maximise treatment results it's important to keep hydrated so by measuring your body composition we can track your water intake to make sure you are hitting your goals! We can also track the fat lost in the thigh areas as well as the muscles gained in each leg.
Q.   Does your cellulite treatment hurt?
A.   Not at all, our treatments are completely pain free, our cellulite treatment even feels like a nice warm massage.
Q.   Do you offer any packages?
A.   Yes! We want you to get the best possible results, so we offer pre paid treatment packages to help you stick to the program whilst saving some money at the same time.
Q. Do You Have Any Before And Afters ?
A. Yes! Click here to view actual before and after images of our clients, used with permission. 
 Disclaimer: Individual results may vary.