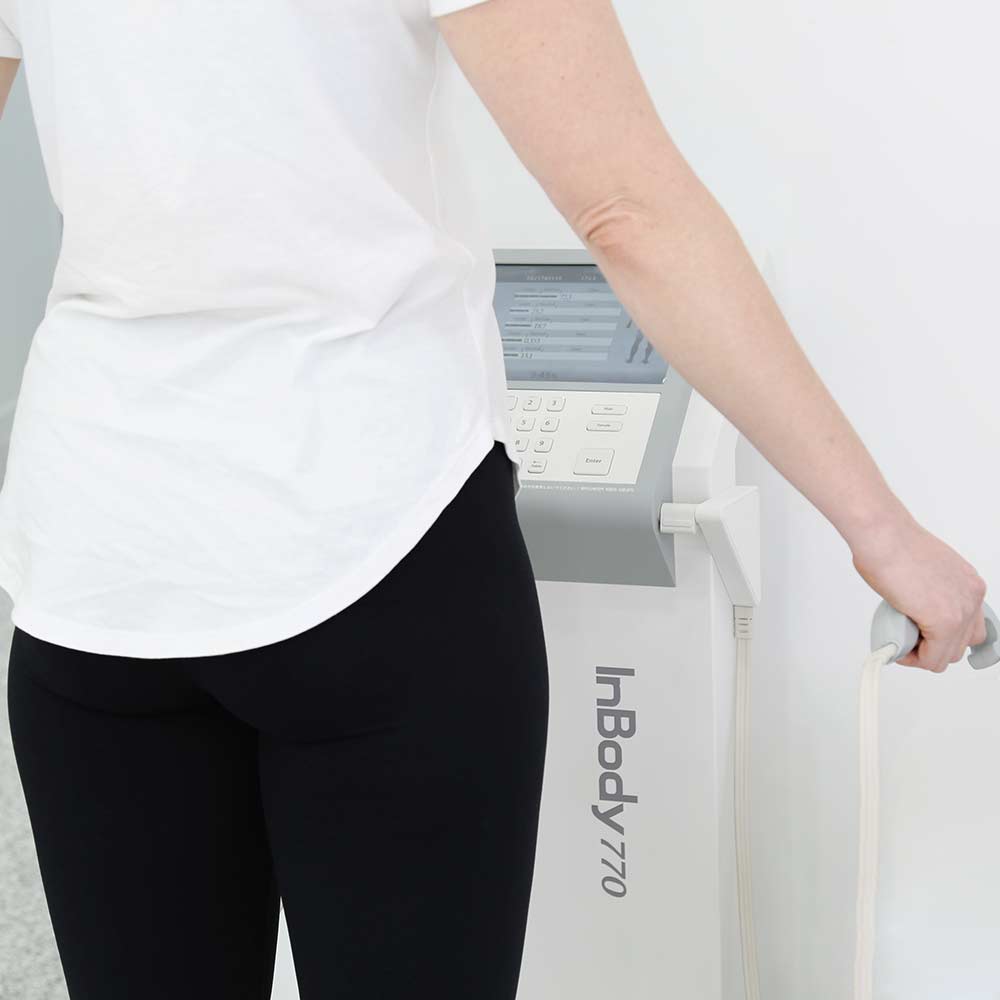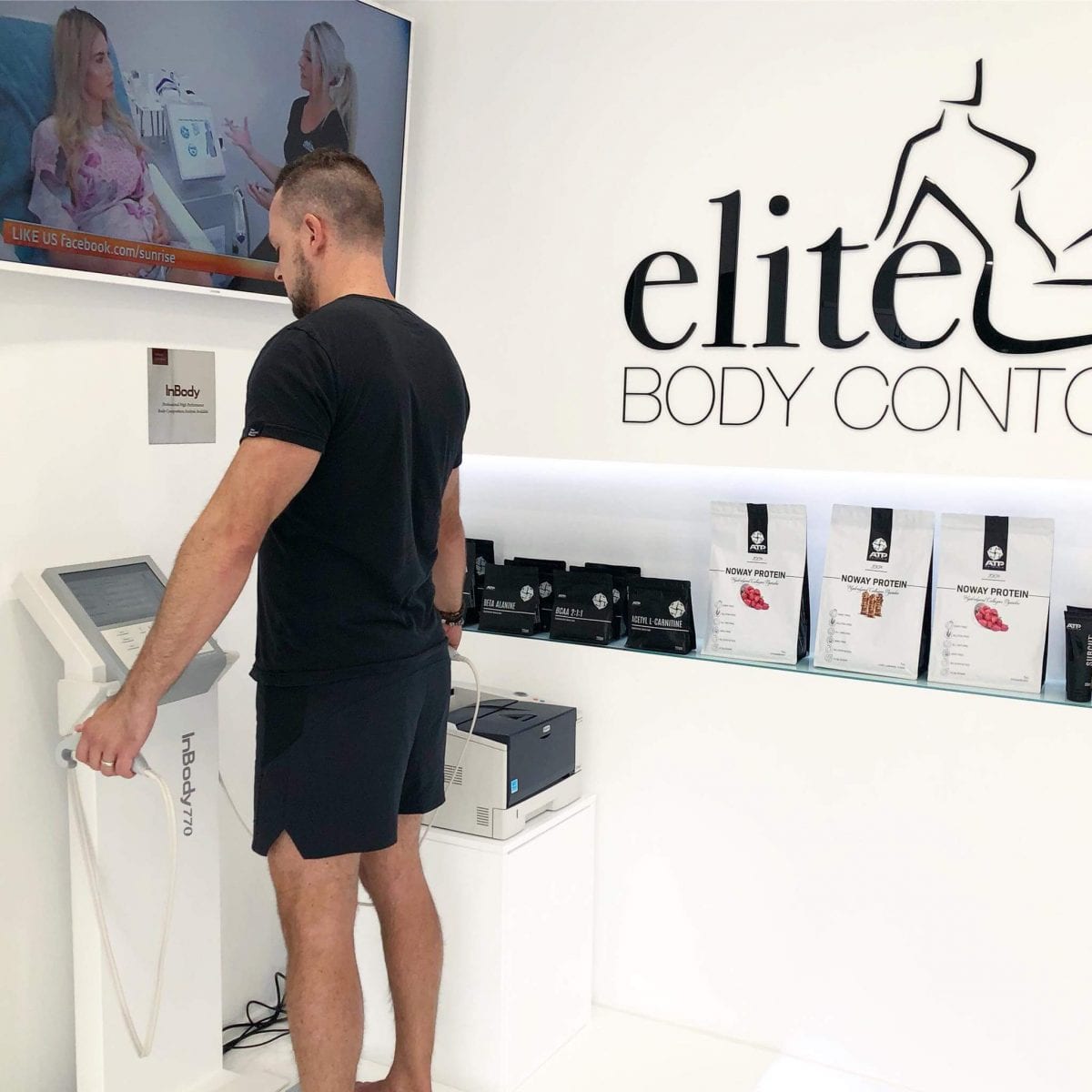 InBody 770 Body Composition Scan Pricing
BODY COMPOSITION SCAN SERVICES
InBody Body Composition Scan services are provided at Elite Body Contouring Sydney.
What is an InBody 770 Body Composition Analyser?
An InBody 770 Body Composition Analyser is an advanced, TGA APPROVED, Medical Grade device used to measure Body Composition.  There are only 6 of these premium scanners in Australia and we are home to one of them!
What Does an InBody 770 Measure?
This state of the art device measures how balanced the body is in terms of muscle vs fat in different areas of the body – it even measures the deep, dangerous visceral fat to help you keep an eye on your health. We can asses the body's water level also, which is key to successfully flushing out the dead fat cells post treatment.
Why Is Body Composition Important To Measure With Non-Surgical Body Contouring?
At Elite Body Contouring, we are focused on setting the highest standards for our industry and are always on the look out for new and improved ways to measure and deliver client results. Our company was established in 2015 , so being in the non-surgical body contouring industry for years, we know what works and what doesn't! Our research over the years has led to the discovery that previous ways to measure results were just not accurate or were inconsistant. Using a scale to measure weight and a tape to measure circumference does not indicate whether a person is reducing fat or muscle.
Our clients invest in our technology so we want to prove to them that our technology does exactly what it claims – to reduce stubborn subcutaneous fat from the body.
Visceral fat is another type of fat in the body, it's the deep, dangerous fat around the organs that can lead to multiple health problems. This fat can ONLY be reduced through diet and exercise – no surgery, magic pill or "treatment" will reduce visceral fat.
Subcutaneous fat is the type of fat that our treatments work to treat. It's the stubborn "hard-to-get-rid-of" fat right underneath the skin. This type of fat is often resistant to diet and exercise and is the last type of fat that the body will process.
Being able to identify how much visceral fat a person carries is vital to the success of any non-surgical fat reduction treatment. 
We are the FIRST AND ONLY non-surgical body contouring clinic in Australia that has the ability to identify how much % fat is visceral with our medical grade body composition scanner in-house! We can also use this technology to help measure your results with data, not guess work. Body Composition Scans are included with all Cryolipolysis, Fat Reduction and Cellulite Treatments at our Sydney Clinic. 
Cellulite Reduction And Body Composition?
Cellulite is probably the most difficult concern to treat and one of our most popular procedures! Many women have tried to reduce cellulite with similar non-invasive technologies and have struggled to see results. At Elite body Contouring we have identified parameters of body composition that can be measured to keep cellulite reduction on track! These include, measuring water intake at weekly intervals as adequate water consumption is VITAL to minimising the appearance of cellulite and eliminating toxic build up. Measuring muscle mass, in particular in the thigh area, may seem unusual, however is also important. Most females tend to sit in the average range of muscle mass for the trunk and arms however may lack muscle mass in the leg area. Being able to identify if muscle mass in the leg area is lacking before treatments commence, will help with the cellulite plan as the client may benefit from building lean muscle mass to help improve results and tighten the skin. We can also keep a close eye on whether a client is putting on visceral fat, which is also a key factor in the success of cellulite reduction treatments. As soon as a client increases their visceral fat (through poor diet and lack of exercise), the body will naturally store fat all over, almost guaranteeing the increased visibility of cellulite. If it sounds like we have put a lot of thought behind our treatments its because we have! We even offer take home care to accelerate your results. If you are serious about reducing cellulite we always recommend weekly body composition scans to track your overall health alongside treatments to keep you on target to meet your goals.
Are Your Health, Training And Nutrition Goals On Track?
We offer InBody 770 Body Composition Scans to those undertaking 6, 8 and 12 week challenges at the gym to help you track your progress. We also offer scans for corporate as part of team building and wellness programs. Scans are available to purchase for $40 each or $99 for a package of three scans.
Frequently Asked Questions (FAQ's)
Q.   Is The InBody 770 Body Composition Scan Accurate?
A.    The InBody770 Body Composition Scan is extremely accurate. It is correlated to be 98% as accurate as the top level DEXA (Dual-Energy X-Ray Absorptiometry) scan across a broad spectrum, non-standardised population including children, elderly, obese and athletes. This is of paramount importance as standardising data produce inaccurate results.
Q.   How Long Does A Scan Take?
A.   InBody Body Composition Scans are so quick and easy! All you have to do is take your shoes and socks off, stand on the scanner and wait for about 15 seconds for the scan to be completed. Unlike having an x-ray which can take up to an hour and clothes need to be removed, you can have an InBody scan whilst fully clothed. 
Q.   Can I Come And Get A Scan Without Having Treatments?
A.   Yes! We encourage everyone to come and have a body composition scan to measure how healthy you are on the inside! Body scans can be booked online or simply pop in during our opening hours. We charge $40 for single scans and $99 for a pre paid pack of 3 scans. It really is amazing the level of detail that our inBody77 Body Composition scanner can reveal.
Q.   Why  Did You Choose InBody 770 Over Other Body Composition Scanners
A.   When researching the best body composition scanners, we couldn't look past the InBody brand. Developed in Korea using patented technology, there is no other brand of body composition scanning technology that comes close to the InBody 770. This technology is the only TGA Approved Body Composition Scanner in Australia.
Q.   Who Else Uses The InBody 770 Body Composition Scan?
A.   InBody has been used extensively throughout medical and scientific research worldwide. It is used in hospitals around the globe, by top sporting teams and even N.A.S.A.
You can view our prices here.
To enquire, click the button below to book your free initial consultation: